---
---
---
---
---
---
---
The HK MP5 SD with TPM SD Suppressor is the perfect choice for an ultra-silent semi-automatic pistol. Crafted with precision and expertise by Ken Clark of TPM Outfitters, this firearm boasts American-made parts such as the RCM barrel, steel shroud and cocking tube, making it a great choice for 922r compliance parts to sbr your self, ready for you to register as an SBR on a form 1 or keep as a pistol.
The RCM cold hammer forged barrel ensures maximum accuracy and endurance, while its silenced design makes it ideal for stealth operations.

The package includes 2 30-round factory German magazines and a case.

Heckler & Koch has developed the MP5SD to meet the special requirements of specialized operations and you can be sure to get the quality you expect from one of the world's leading firearms makers.
---
---
Texas Gun Experience is your one of a kind shooting destination. Enjoy our massive 35,000 sq. ft. facility which includes 25-yard and 50-yard ranges, machine gun rentals, VIP lounge, gunsmithing, private/corporate event space, training, and the ultimate gun and knife retail experience.
Starting at $69.00 Per Month!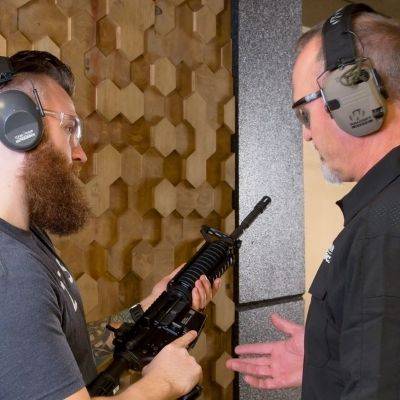 Full Auto Fridays, Choose from 4 different full auto machine guns to shoot down range.

Shoot one, or shoot them all!

From 10AM-8PM on Fridays.
Only at The Texas Gun Experience
in Grapevine Texas.
Starting at $30.00 Per Magazine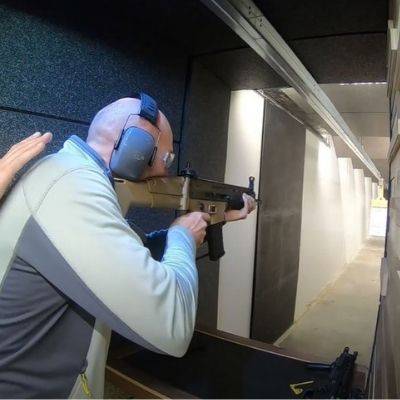 ---
"My son and I were first time customers (from New Hampshire) last weekend while in the area for other attractions. We stopped in to shoot three machine guns and the BMG. The staff, facility and experience far exceeded our expectations. A truly awesome time!! We highly recommend TGE and The Blade Bar too."
"This place is awesome!!! I brought my son in today for the first time for his first time shooting. We rented an HK and I brought my Glock, bought 300 rounds and had a great time. From the front desk to the range safety officers, everyone was awesome, polite, and super professional. Prices for rentals as well as lane usage were very reasonable!!! Will definitely be going back again with my son and dad."
"Being a Marine Corps officer for 30 plus years I have been to and around many gun ranges and businesses across the US. The professionalism, knowledge and down right exceptional customer service is second to none. As soon as you walk in, their employees absolutely make you feel welcome without being pushy at all. They genuinely want to ensure you enjoy your experience there. It was amazing to see the owner / operators mingle with the public and give their undivided attention. To them to answer any questions or concerns. Truly remarkable. I've also been to the "full auto Friday" a few times and the experiences are just fun...highly recommend this place to any gun person or consumer for that matter. The Texas Gun experience truly sets THE STANDARD"
"It isn't often that you find a company that has employees that have the same attitude and energy to be helpful. I found this recently at Texas Gun Experience in Grapevine. Rachael, at the sign in desk, took time to help me with the registration and wanted to make certain that I had the correct instructions to work around a little technical glitch. You could immediately tell that she was concerned. So after a great experience at the range, I found the same experience when I met Michelle at the guest services desk. She had the same attitude and took time to listen, then offered the solution. These ladies were cut from the same cloth - customer oriented. Good Job."